Customer Reviews
10/08/2021
Lucas F.

United States
Signed poster is awesome
Get Some. Color pallette and legibility of Jocko's words is excellent.
03/15/2021
Suraj M.

United States
Awesome!
Excellent quality! Packed with amazing care.
09/25/2019
Luke W.

United States
Best experience hanging anything on a wall, ever
The qualify of the art, framing, and everything was top-notch and we are so thankful to be able to support quality American business! You guys are crushing it and we will definitely be putting more things from Flipside Canvas on our walls soon!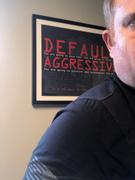 Related Items
Jocko | Good
$247.00
If you're looking at this right now, guess what? It means you're still alive. It means you're still breathing, and if you're still breathing well then hell you've still got...
---
Jocko | Get After It
$247.00
No words can be used to describe this art that will do more justice than what it already yells in your face…GET AFTER IT.
---
Jocko | Excuses
$247.00
I'm too old. I don't have enough experience. I'm too young. I'm too tired. I'll do it tomorrow. Every single excuse you make up for yourself is a lie -...
---
The Man In The Arena
$247.00
"It is not the critic who counts; not the man who points out how the strong man stumbles, or where the doer of deeds could have done them better. The...
---