Customer Reviews
Absolutely love
The quality is great. I got this for my husband and he loves them! These are going in his office at our business. I do recommend them. My only complaint is the lead time.It took a long time to get them. 4 weeks for a canvas I think it was too long. It actually arrived after his birthday. Other than that it's perfect.
The artwork is impeccable and the message is clear
We now own three canvases: "GOOD", "Get After It", and "All Your Excuses are Lies". The quality and packaging of the artwork is impeccable, and the message is clear. The canvases are displayed in our office and can be viewed in the background during Zoom meetings, setting the tone for every conversation.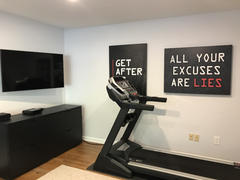 Love it!
HD metal print looks amazing. Grateful for this!
the print is amazing!
the quality is outstanding! just be warned the production can take a while so keep that in mind. I ordered on August 4th and my print didn't ship until August 25th. so if this is a gift, keep that in mind
Great gift!
I gifted this to my son when he completed his PhD; it was on his wish list for a while. He absolutely loves it!
Related Items
Jocko | Get After It
$206.00
No words can be used to describe this art that will do more justice than what it already yells in your face…GET AFTER IT.
---
The Man In The Arena
$206.00
"It is not the critic who counts; not the man who points out how the strong man stumbles, or where the doer of deeds could have done them better. The...
---
Jocko | Excuses
$206.00
I'm too old. I don't have enough experience. I'm too young. I'm too tired. I'll do it tomorrow. Every single excuse you make up for yourself is a lie -...
---
Silent Professionals
$206.00
As Douglas MacArthur said, "Americans never quit." Honor the heroes who protect our great country with this beautiful, patriotic canvas.
---