Customer Reviews
06/14/2020
Desiree M.
United States
Thank you
My spouse loved it, great quality
02/19/2020
Roy L.
United States
Flip side -The Manual
First , the service and communication about my order and it's status was excellent! The artwork is outstanding. I heard about Flipside while listening to a podcast and visited the website. Upon seeing "The Manual", I knew that it would be a perfect gift for my wife and she loves it. Thank you for the superior customer experience and great art work.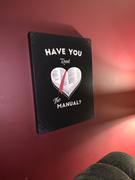 12/21/2019
Jerry L.
United States
Excellent product.
My family loves all the canvases we get from Flipside Canvas, and the customer service has been great in our gym. We look forward to more in the future.
12/16/2019
Peter W.
United States
High Quality - No ********. American MADE.
I think the canvas quality and details of the painting are perfect! And, the assembly of the framed picture was assembled with care and the QUALITY of this wooden frame! FORGETABOUTIT. You've never seen quality like this! I'm a Carpenter… This is a quality frame, sanded to 120+ grit (if not more) with a radius edge with ogee bit, i think.
12/16/2019
Bill F.
United States
All your excuses are lies
Amazing quality and finish I love it
Related Items
Mi Cultura
$247.00
Celebrate your culture and what makes you you with this stunning canvas. The bright colors and unique artwork will add some flair to any space.
---
Family
$247.00
Family is an amazing and unbreakable bond - a source of inspiration, love, and strength. Honor your family with this stretched canvas that takes you back to your roots.
---