Customer Reviews
Inspiring Message
This beautiful piece of art hangs prominently where I see it first thing in the morning and when I lay my head down at night. This actually replaced a another canvas that I personally talked to Dakota about that wasn't up to his standards. I cannot thank Dakota and Ben enough for their unmatched customer service and more importantly their unbelievable generosity and genuine concern not only for their products but for me and my Marine. True, true gentleman!!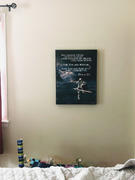 Related Items
Jocko | Good
$206.00
If you're looking at this right now, guess what? It means you're still alive. It means you're still breathing, and if you're still breathing well then hell you've still got...
---
Jocko | Get After It
$206.00
No words can be used to describe this art that will do more justice than what it already yells in your face…GET AFTER IT.
---
The Man In The Arena
$206.00
"It is not the critic who counts; not the man who points out how the strong man stumbles, or where the doer of deeds could have done them better. The...
---
Jocko | Excuses
$206.00
I'm too old. I don't have enough experience. I'm too young. I'm too tired. I'll do it tomorrow. Every single excuse you make up for yourself is a lie -...
---