Customer Reviews
12/02/2021
Josh S.

United States
Legit
Since I put this signed picture of Jocko on my wall my deadlift has increased by 4500 pounds, the Gracies invented a new camo colored belt in Jiu Jitsu higher than black just for me, and I can take down most big game just by intently staring at it. Highly recommend.
05/27/2021
Anthony S.

United States
Good
The art is amazing. I love all of Meyer's teams work. I'll definitely be getting some more. And having Jocko's handcock on the wall in my gym is the cherry on top. We need more role models like him. Until next time. See you on the flipside.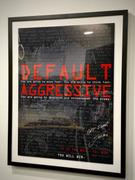 Related Items
Jocko | Good
$247.00
If you're looking at this right now, guess what? It means you're still alive. It means you're still breathing, and if you're still breathing well then hell you've still got...
---
Jocko | Get After It
$247.00
No words can be used to describe this art that will do more justice than what it already yells in your face…GET AFTER IT.
---
Jocko | Excuses
$247.00
I'm too old. I don't have enough experience. I'm too young. I'm too tired. I'll do it tomorrow. Every single excuse you make up for yourself is a lie -...
---
Jocko | Discipline Equals Freedom
$247.00
Whether you swing a hammer or push papers you know that very few things ring truer than "Discipline Equals Freedom". Put your principles on display with this Flipside Canvas collaboration...
---